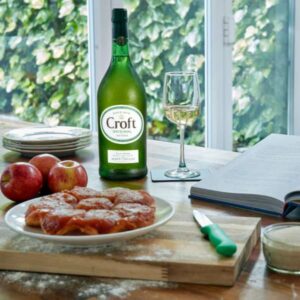 Serves 6
If you're in the mood for comfort food, sitting down to a glass of Croft and a slice of this delicious Tarte Tatin is like being wrapped in a warm, fluffy blanket. A simple but delicious recipe, perfect for Sunday lunch or a treat after a sunny autumnal walk.
Ingredients
320g Ready Rolled Puff Pastry
5 – 6 Dessert Apples (we like to use Braeburn)
100g caster sugar
80g unsalted butter
You will need an ovenproof, heavy frying pan or Tarte Tatin dish
Method
1.   Pre heat the oven to gas 5, 190C/170C (fan)
2.  Cut the pastry to a disc, slightly bigger than your pan, and set aside in the fridge.
3.  Peel, core and half the apples and set aside.
4.  Melt sugar in 20cm/8-inch ovenproof, heavy frying pan or tarte tatin dish for 5 minutes on a medium heat until it gains a caramel colour.
5.  Remove from heat and stir in unsalted butter to form a caramel.
6.  Place the apple halves into the pan, rounded side down, return to a medium heat and cook for 10 minutes.
7.  Remove from the heat.  Place the pastry disc on top and place in the hot oven for 25 minutes or until golden brown.
8.  Tip out onto a serving plate so that the pastry is on the bottom and apples displayed on top.
9.  Serve this delicious Tarte Tatin with whipped cream, ice cream or your favourite Pale Cream, Croft Original.