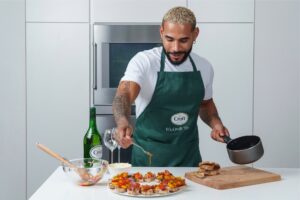 An ideal vegetarian recipe or simple dinner idea, this easy bruschetta recipe created for us by Bake Off's Sandro Farmhouse is sure to be a hit at your next summer gathering!
Ingredients:
Sliced ciabatta
1 clove of garlic – crushed
40g of spreadable butter (or dairy-free spread)
250g cherry tomatoes
1 orange, peeled, skinned and cut into wedges
1/2 red onion, finely sliced
A handful of fresh mint
3 tbsp olive oil
Pinches of salt, black pepper, dried parsley, and dried oregano
Optional: 100g hard goats' cheese
For the pineapple hot honey garnish:
200g runny honey (or maple syrup)
A handful of chillies, deseeded and chopped finely
25ml of Croft Original
1 tin of pineapple chunks
Method:
Start with the garnish:
1.In a small saucepan, heat the honey and Croft Original with the chillies, until slightly bubbly.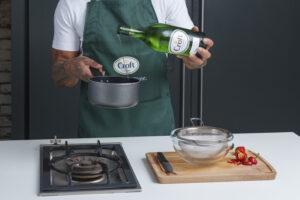 2. Sieve the honey to remove all the chillies and discard them.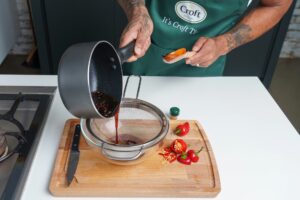 3. Cut the pineapple chunks into very small cubes.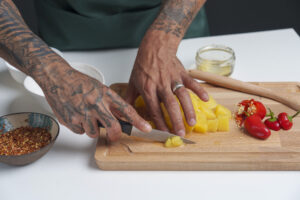 4. Return the honey to the pan, add the pineapple, cook for a further 2 minutes then remove from the heat and allow it to cool down.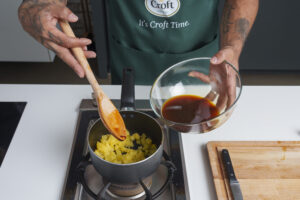 Making the bruschetta:
5. Preheat the grill until hot, slice the ciabatta and toast on both sides until golden and almost charred and cut the cherry tomatoes into quarters, cut the peeled and skinless orange wedges in quarters and finely slice the red onion.
6. Add it all to a mixing bowl with a drizzle of the olive oil, a pinch of salt, pepper, oregano, and dried parsley. Give it a mix to coat, cover and rest in the fridge until ready to use.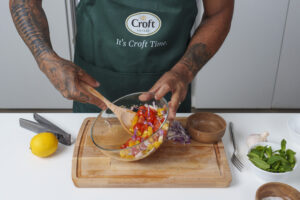 7. Add the crushed garlic to the butter and mix well.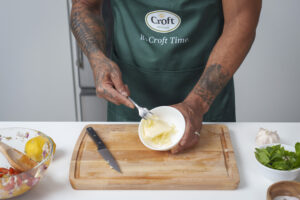 8. Spread the garlic butter on the grilled slices of ciabatta, add a spoon full of the tomato and orange mix and garnish with very small tsp of the hot honey pineapple, fresh mint and a couple of cubes of Goats cheese for an optional savoury element.