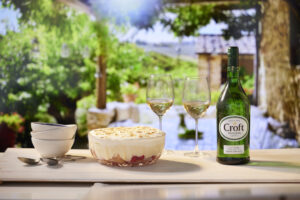 Serves 5
A classic favourite, especially as a post-barbeque treat, a trifle is the perfect addition to any occasion. A dash of Croft Original helps this iconic dessert stand out as something truly special.
Enjoy it with friends and family alongside a tender glass of Croft Original, or unleash your inner Bake Off star and try it alongside Sandro's Summer Spritz.
Ingredients
250g custard (or vegan substitute)
375g strawberries (hulled and halved) and blueberries
3 tbsp Croft Original Sherry
200 ml double cream (or vegan substitute)
125g caster sugar
A handful of fresh raspberries or almonds to decorate (optional)
1 Madeira cake
¼ cup of water
A pack of jelly cubes (or vegan substitute)
Croft Original (to serve)


Method
In a large pan, add the sugar, a little water, and fruit to bring to a low simmer for 2 minutes.
In a separate bowl, prepare the jelly mix using the instructions on the packet.
Cut the Madeira cake into cubes and arrange in the trifle bowl.
Pour the fruit and juices and Croft Original over the cake.
Pour over the prepared jelly mix and chill until set
Once set, cover with custard (mix with mascarpone if you prefer your trifle a little less sweet)
Whip the double cream, add to the top of the trifle and decorate with almonds and fresh raspberries.
Enjoy with a glass of Croft Original or Sandro's Summer Spritz!