It's funny how things that are revolutionary and modern can slip into becoming traditions.  Take Croft Original Sherry, for example.  When it was launched in 1970 it was met with a mixture of surprise and delight.  How could a sherry be so fresh, so refined, so versatile, and oh-so-easy to drink?  With its freshness and touch of honeyed sweetness, it took the world by storm.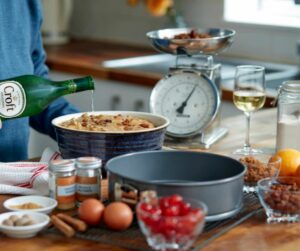 Today, Croft Original remains a much-loved wine.  Over the years, however, people have discovered that Croft is as versatile as it is delicious, and a new set of traditions have evolved around it, including:
As an appetizing aperitif – Croft Original is a natural aperitif.  Cool and refreshing served straight from the fridge, it's light enough to be sipped on its own, but with its warming, honeyed tone it tantalizes the tastebuds and gets you in the mood for food
With food… whether you're looking for a delicious accompaniment to pâte on toast, something to go with a cheeseboard, or the perfect partner to an indulgent chocolate brownie, Coft Original is an ideal choice.  Its fruitiness and richness add an extra layer of complexity, while its freshness cleanses the palate.
In food – while no self-respecting sherry trifle would be complete without a glass (or two!) of creamy Croft Original at its heart, when it comes to food, Croft is more versatile than many people think.  From enlivening a homemade mushroom soup to bringing out the flavour in a creamy chicken casserole, it's a great ingredient to have to hand.
Making Stir-up Sunday special – Stir-up Sunday is among the loveliest and longest-running traditions in the UK's culinary calendar.   Held on the Sunday before Advent, it's the day when cooks across the country prepare their Christmas pudding.  We love to add a splash of Croft Original to ours of course, and to other festive favourites like mince pies, and the all-important Christmas cake.  Not only is Croft a wonderful addition in all these delicious treats, but a glass or two for the cooks is an equally well-deserved treat!
Christmas wouldn't be Christmas without Croft– marinating your Christmas cake dried fruit in sherry, toasting the newly dressed tree with a glass of Croft Original, and giving the gravy a more luxurious feel with a dessert spoon of Croft sherry, are all great Christmas traditions.  Just add family and friends, and you'll have Christmas wrapped up!
In a cocktail – who'd have thought that sherry could be at the heart of a delicious cocktail?  Well, whether you're looking for a summer sipper, try Sandro's Croft Summer Spritzer or while away the evening with a warming Croft Orange Negroni
How do you Croft? Share your favourite Crofty traditions on our Instagram or  Facebook page!